Shine When You Present
Public Speaking Training and Coaching in the Bay Area and Beyond

Class meets using Zoom Video. Please have Zoom installed and a mic/camera ready for this interactive class.
This Week's Topic: How to Start Meetings with Leadership Presence
*All in-person classes on pause through 5/1.
Online class times: Tues from 8:30am-9:30am PST, Wed from 11am-12pm PST and Thurs from 12pm-1pm PST.
Need help with program selection? – Get a 20-minute complimentary public speaking consultation to help you figure out which program is best for you and/or for your team!
We are happy to guide you.
Trainings are hands-on, fun, and interactive

We use accelerated learning technology, acting techniques,and neuroscience to help you learn faster

"

Love Your Training Guarantee

"

If you don't love your training just let us know and we will always make it right!

A systematic way of learning regardless of your level

Complementary follow up trainings with each full day boot camp
Customized Training For Your Team
We will work with you to bring one of our boot camps to your organization or custom fit a program for your team at no cost. Our training specialists will work with you hand-in-hand to make sure the training is exactly what you and your team need.
ORGANIZATIONS WE'VE WORKED WITH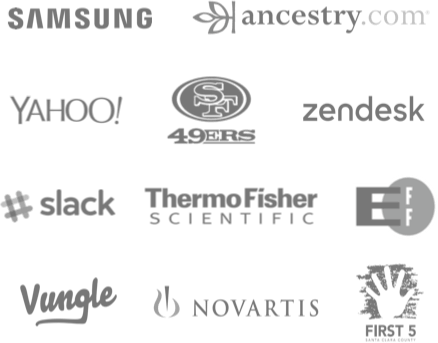 "This was one of the best investments I have made in my professional career. I highly recommend taking any of the courses offered here.  The course I took offered invaluable lessons that would have taken me years to figure out on my own. Anyone aspiring to take their public speaking skills and professional career to the next level should sign up.  I signed up for my first course because I was nervous about public speaking, I was also wasting tons of time writing my speeches, now I can relax and enjoy my job as a clinical educator."
Will C.
Magnetic Delivery Bootcamp