Demand for virtual presentations is on the rise. Team meetings, webinars, client meetings and even some conferences are being held virtually or at least in a hybrid format.
And most likely you will be doing a virtual presentation soon.
At work, you probably use software like Zoom and GoToMeeting, and there is no way out of that anytime soon.
In fact, as technology evolves the medium of presentations will keep evolving too. I can't wait for the time when we use a full on Virtual Reality set like Oculus (It will be amazing, and we are getting ready for it at Magnetic Speaking!!).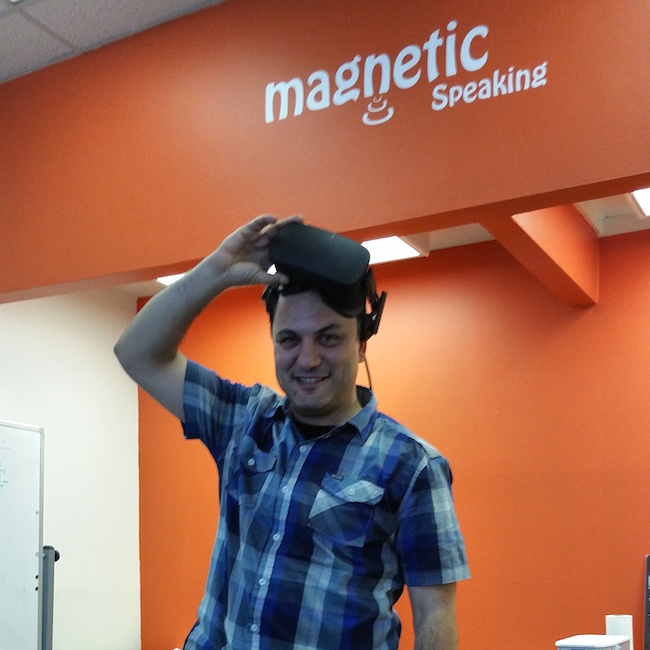 The good news is that despite the ever-changing medium of presentation delivery, there are constant fundamentals that will never change. This article will help you learn the fundamentals.
The acronym I use to help be ready for Virtual Presentations is PACES:
P- Plan
A- Audience
C- Content
E- Engagement
S- Socialization
Plan – for your virtual presentation
The key to an excellent presentation is a solid plan. You have to plan the time, the location, software to use and back up plans.
I once attended a presentation where the speaker showed up 5 minutes late. The worst part was his excuse; he said that it took "him a while to download the software needed." That reason is not sufficient even for the attendees let alone the speaker.
The best thing to do is think ahead of all the things you need before the presentation and execute. If your planning is done the right way, your virtual presentation should be seamless.
Audience
A lot of people fear virtual presentations even more than regular presentations. The reason: in real presentations at least you see who you are talking with, in virtual presentations a lot of times you don't see them. As a result, you end up speaking into a void with no feedback. When your brain does not get the feedback it needs, it creates all sorts of scary scenarios. You don't want that.
To avoid the scary scenarios, you have to set an image of a person to talk with mentally. I learned this technique from Oprah Winfrey. She once said in an interview that she imagines her best friend when she looks into the camera. Now I do the same thing; I imagine the ideal person for the presentation I am giving.
For example, if I am doing a virtual presentation for TechWomen's constituents, I would imagine Dalia (A woman that fits the target audience of TechWomen).
Content
Content is king in the virtual landscape. In the live presentations, you keep people's attention with your eye contact, with your body language, with your movement onstage. You can't do any of that in a virtual environment. Therefore, you should consider using a wide variety of media types to keep and attract attention. These include, but are not limited to:
– Links
– Images
– Screen sharing
– Videos
– Slides
Carefully designing your content is the key to keeping your virtual presentation interesting. To keep your information clear, concise and visually appealing, try to simplify your data point, use compelling imagery, and avoid overloading text. I have experienced slide hypnosis, and I'm certain I'm not alone. It happens when the presenter uses one slide for every explanation or data point and the audience zones out.
A dynamic presentation is an impressive presentation, so use a variety of media, images, and graphics to keep your audience's attention. Also, information overload and endless slides are a sure way to lose your audience, so be sure to stay on point and have a clear focus.
Engagement
Engagement will captivate your audience. Take advantage of your virtual presentations to make your audience feel like they are right there – sitting next to you – every time you present. Use live Q&As, surveys, polling and chats (among other engagement technologies) and your audience will be far more involved in your presentation.
However, don't do engagement for the sake of engagement. I hate it when presenters use silly questions just for the sake of having people interact. Only use interactivity and engagement when it adds value to the audience.
Socialization (very important especially for virtual presentations)
We human beings are social creatures. We like to be individuals, and we like to be part of groups. It is easy to lose this socialization affect when you are communicating with the camera on your laptop. The camera becomes a barrier between you and the audience. To minimize this anti-socialization effect, you have to utilize your language more efficiently to create a more intimate dialogue. It's simpler than you think – don't freak out.
To create an individualized intimate sense, use the word YOU as if you are speaking to one person. Instead of saying "Can everyone out there here me" implying disconnected, lost masses, use, "Can you hear me." it's a subtle difference, but the effect is significant. If you suggest through your language that you are speaking to a group of fragmented people, then your effect of reaching the individual gets diminished.
If you are talking to your team virtually, make sure you use the word "we" as much as you can. Remember, we as humans like to be individuals, and we also like to be part of a group. Using you, taps into the individual need, and using we taps into the group need.
—–
There is more to giving a virtual presentation than meets the eye. The message you deliver must resonate well with the audience whom you are presenting the content. Therefore, it's helpful to follow the PACES concept when preparing your presentation. So long as you know how to keep your virtual audience engaged, you can be sure that your presentation will be well received.
Following are five additional ideas that can work well with the concept of PACES while going beyond that established backbone in some very dynamic ways.
More virtual presentation tips
1. Be Real
People build trust through eye contact and body language, and this is still true even when you are presenting remotely. Even though you may not be able to see your audience, they may be able to see you if you are using a camera. You can create a connection with your virtual audience by doing the following:
– Look into the camera directly and fight the temptation to look down at your notes.
– Simulate your intended audience with topic-driven photos of real people.
– If you can, stand up and deliver your message as if you are giving the presentation to a live room.
2. Keep it Interesting
Virtual presentations may or may not include a camera.If you happen to be doing a presentation without a camera, your slides and voice are the only tools that you have available. Provide clear slides that are easy to digest without an overabundance of details and information on any one slide.
If you are using a camera, it is best to stand while speaking. Use body language, such as hand movements, and vary the volume, speed, and pitch of your voice.
One great way to grab the interest of your audience is to have a guest speaker, either pre-announced or as a surprise. Sometimes I bring one other Magnetic Speaking trainer to my virtual presentations. I cover one topic, and they cover another; this ensures variety and spontaneity. In addition to doing our designated sections of the presentation, we also interact with each other during the presentation. This keeps it fun and interactive.
3. Eliminate Distractions
Most of the people attending your virtual presentation will be listening to it through headphones, so every noise they hear will be noticeable. To ensure that you do not distract yourself or your audience, use the following guidelines:
– Remove rustling papers, email pop-ups, and your mobile devices.
– Ask a moderator to field incoming questions from your attendees.
– Log into the meeting at least half an hour early.
Most importantly plan well. One time I was doing a virtual meeting in my home office while my brother and his kids were visiting. The kids were making lots of noise in the other room, and my audience could hear everything. I could have done better planning on my part because kids will always be kids 🙂
4. Have Fun
Over and above everything else, remember to have fun. If your virtual presentation gives you and your audience the opportunity to laugh, smile and connect, it will be a rewarding experience for everyone. Happy people retain information better and longer than bored or disinterested ones.
Conclusion
Use the tips and tricks discussed above, and you will have no problem creating high-impact virtual presentations. Go through these ideas every time you have a presentation to make, and you will soon find your peers and associates turning to you for assistance when it comes to creating a virtual presentation.